Interactive Games and Experiential Tools to Make Sure Your Sex Life is Deeply Satisfying and Full of Passion
"I've been struggling with issues in my sex life for years now and tried counseling on and off and I feel like I've made more progress in these past few weeks than I have in the past few years!"
~ Kate A, Member of The Erotic Blueprint Breakthrough Course
Finally! A clear approach to experience frequent, orgasmic pleasure!

These practices, tools and techniques are what Jaiya used to transform Erika and Damon's relationship on Netflix's docuseries 'sex, love & goop'…
And now YOU can use them to transform your sex life too!
Here's
EXACTLY

how we help get
you results…
Forget the boring coursework!
In 70 (5 to 15 minute) engaging video trainings
Jaiya and Ian give you…
Fun Games to uncover all your hottest turn ons, so you can always get your desires fulfilled (Solo or partnered)
Powerful Pleasure Practices to deepen connection and expand your pleasure. The pleasure possibilities are endless, and we'll unlock the gates to your orgasmic satisfaction
Tools to dismantle blocks to Your Pleasure so you can freely express who you are and get what you want, free from pain, frustration and shame
Sexy, Successful Communication Tools: Overcome incompatibility, get your needs met, deepen intimacy and ignite passion for a lifetime…
So much more than an online course!
Get Live, Ongoing Expert Coaching and Support
As a LIFETIME member of our online community
You get multiple monthly group coaching calls
Your journey is unique to you. Having someone available to customize the program to your needs keeps you from getting stuck, frustrated or confused
With our Lead Blueprint Coaches guiding you every step of your journey, you'll always know how to navigate the sticky spots and what to do next!
This personalized support is truly priceless and unparalleled with this kind of training
Joyfully and Fearlessly Get The
Connection and Satisfaction That You Crave!
Challenged by not getting your needs met in the bedroom?
Not knowing what turns you on or being able to ask for what you want…
Get your needs and desires fed and fulfilled!
You're frustrated because Pleasure and orgasm are elusive or non-existent for you…
Experience deep, satisfying pleasure in ways you never knew were possible!
You suffer from Sexual incompatibility killing passion in your relationship(s) and you feel like your sex life is doomed…
Discover fulfilling, orgasmic connection and that young love passion… No matter what stage of relationship you're in!
You lack Confidence in between the sheets, fumbling and failing, unable to pleasure your lover(s) to climax…
Master the turns ons of
All 5 Erotic Blueprint Types and
Become the Ultimate Lover…
Dive into orgasmic homework and pleasure exploration. This step-by-step training (and the personalized support you receive) give you time tested tools to experience the personal pleasure, fulfilling intimacy and sexual satisfaction that you crave.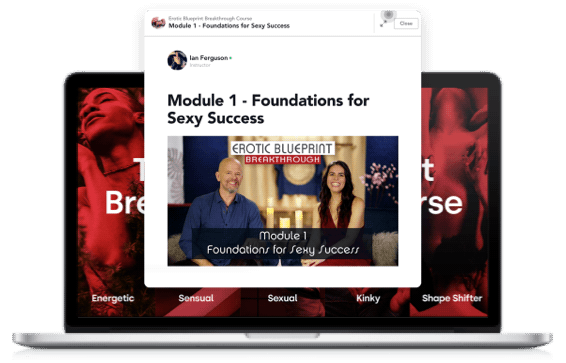 (foundations for your Blueprint Breakthrough)
Easy wins speed up your erotic transformation!
Right from the beginning, we give you powerful practices and simple strategies to start getting your desires met and needs fulfilled.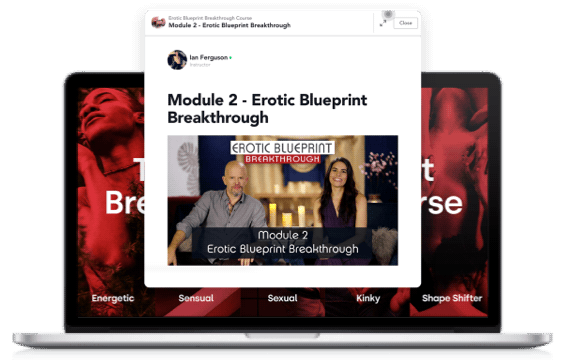 (so you can experience greater erotic fulfillment)
Discover the 5 different 'Stages of Sexuality.' Honoring what Stage you're currently in releases you from self-judgment and empowers you to relax into your authentic sexuality.
We also reveal to you the 4 fundamental pathways that could enhance (or cripple) your sexual health and pleasure.
Uncover your unique map of pleasure
(so you're never left wanting again)
Your body has the secrets to your ecstatic satisfaction.
You're not going to uncover your hottest turn ons by reading words on a page.
We give you detailed, fun and easy practices to determine your own or someone else's Blueprint delights!
Once you master these skills, erotic superpowers are yours for a lifetime.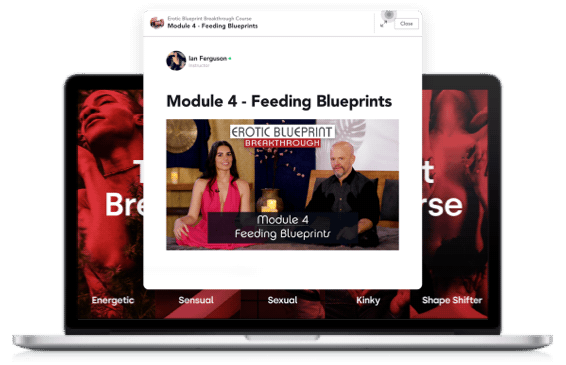 Master the art of total orgasmic fulfillment
(your pleasure cup runneth over when you learn to feed your desires)
Each Blueprint Type flirts and seduces differently. Each Blueprint Type experiences arousal, turn on, orgasmic delight and climaxes differently.
This module empowers you to get the touch you crave! AND have the confidence that you can satisfy any lover like never before.
BONUS: Super hot "Feeding the Blueprints" video demonstrations (tastefully PG – nudity-free) show you solo-pleasure and partnered practices in every Erotic Blueprint Style. Watch, learn, and implement. Develop the ability to make any lover come back for seconds (or stay for a lifetime).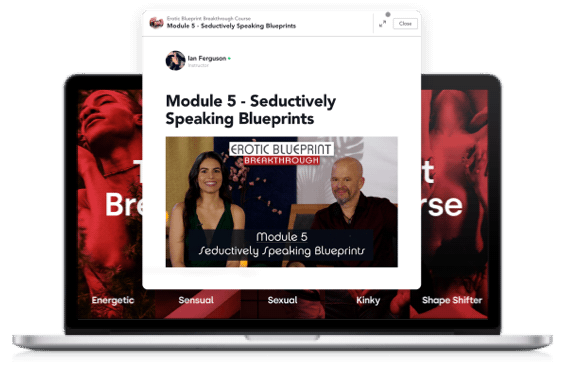 Seductively Speaking the Blueprints
(your presence is your power)
Did you know that each Blueprint Type has entirely different words that turn them on? 
We'll show you the exact words to use, how to email, or sext to hit exactly the right tone to drive your lover wild.
More than words… Each Blueprint wants to be seduced and aroused differently. Your vocal tone, your body language…
Does your lover feel your presence when you're with them? Can you confidently play with control and surrender? Dominance and submission?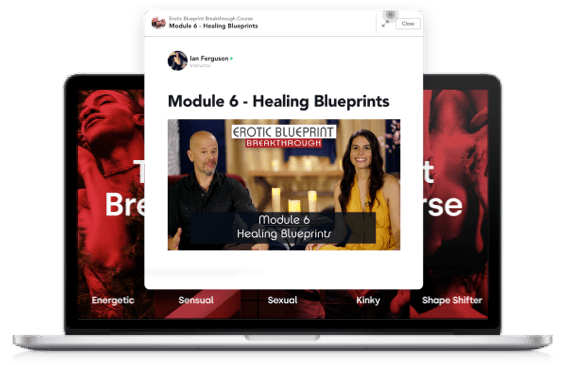 Bust Through Obstacles and Own Your Pleasure!
(clear the past so you can indulge in the present)
No amount of sexual positions, perfect communication, or erotic games can help you bypass your wounds.
If you want to enjoy sex on a whole new level, we'll help you heal unresolved demons leftover from your exes, boundary breaks, disempowering inherited beliefs, and on and on.
Transform your biggest obstacles into your most potent pathways for pleasure, when you heal the Shadow side of your Blueprints.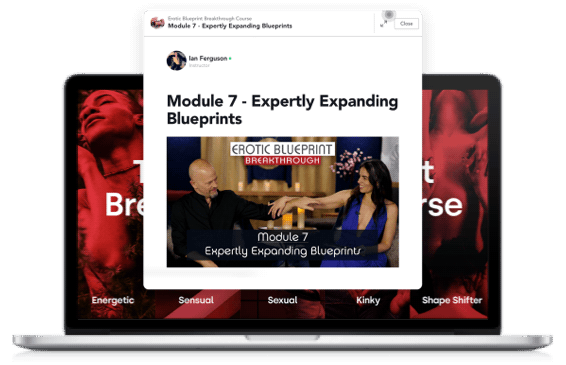 Experience erotic satisfaction you didn't even know was possible
(become the ultimate lover – solo and partnered)
The possibilities for pleasure are endless.
Expanding into the turn ons of all the Blueprint Types means you get to be turned on by everything, if you want. Solo or partnered!
Your lover's pleasure map is probably very different from yours. If you don't know how to feed their desires, passion can fade and connection can die.
Wouldn't it be amazing if you were authentically turned on by what your lover desires?
When you expand into ALL the Blueprint Pleasures, you no longer "perform" for your lover. You become the ultimate lover, because you know how to access your own pleasure, solo, and how to please any lover, no matter their Blueprint Type. 
Discovering ALL that's erotically possible is what this module is all about!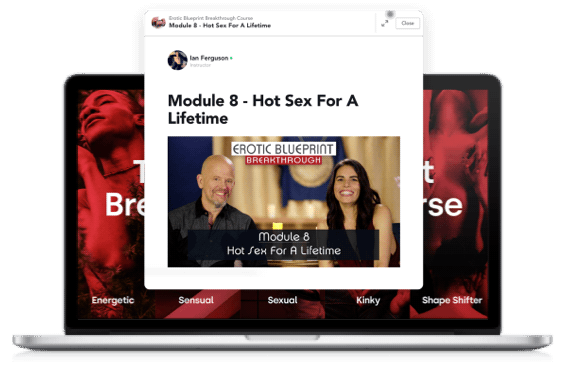 Pleasure satisfaction for a lifetime
(don't settle for less… ever again!)
You are the master of your own pleasure destiny.
This module gives you the tools to experience fulfilling connection, lusty passion and hot sex for the rest of your life.
No matter whether you're single or in a relationship, 20 years old or 80, you can access turn on and pleasure satisfaction!
Discover the tools that Jaiya and Ian have used and have shared with thousands of students to keep the fires of passion burning bright for a lifetime!
"Our compatibility has gone through the roof… how to be pleased. How to ask to be sexually pleased. How to please you (your partner) sexually. How to experience not only the orgasms we were already having and the ecstatic pleasure that we were already living, but now to have it magnify and multiply and go to whole new levels. It feels like we're starting our relationship again!"
"We have this common language of what our Blueprints are feeling day to day, and we can meet each other that way. So sex becomes this fun playground for us now."
"Before the Blueprints, I was a nice suburban mom in a sex-starved marriage; I felt starved, resentful, and desperate, like my nose was pressed up against the glass and everyone else was inside having a great feast of awesome sex that I would never know. Then I learned: I'm a huge Kinky Energetic Shapeshifter! Now, I'm still a happy mom, and I'm in the kind of sexy. loving relationship I could only dream about before."
"I'm 55 years old… a widow of 7 years… How does this apply to me? A course on Eroticism! It's given me a map… about me. The erotic me. The Sexual me, The Sensual, Energetic me. This has taught me so much about how to tap into what turns me on. What turns me on is all around me all the time. I get to be in touch with my body and my sexuality now, and it makes me feel alive!!"
"Before the Blueprints I was having infrequent sex with my husband of almost 40 years. I was experiencing anxiety in my relationship… I now have deep awareness in my own body of my sexual experience, my needs and how to ask for what I want! My experience of my intimate relationship is now vibrant, alive and thriving!"
"I had spent more than 25 ears in the very masculine world of high tech start-ups which led me to live in my head and to disconnect from my body. Then I discovered the Erotic Blueprints and woke up! I remembered how to feel my body, and listen to it's wisdom. I discovered there's a whole technicolor world of pleasure, possibility, expansion and freedom. Now I'm happier and more fulfilled than ever both inside the bedroom and out!"
8 In-Depth Modules, But Only…
3 steps to
sexual fulfillment...
1 life-changing program to achieve them all.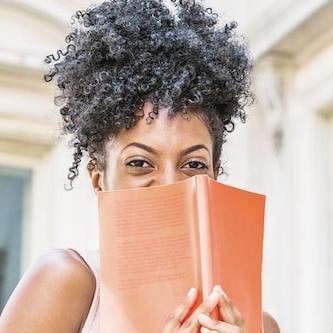 Do you know what really turns you on (and off)?
Do you know what's erotically possible and how much pleasure is available in your body?
Can you successfully guide any lover to drive you to orgasmic satisfaction?
You've got sexy Superpowers
Before you can understand your lover(s), put your own pleasure first and understand yourself.
This immersive program guides you, step-by-step, to discover what truly brings YOU pleasure.
If you're single, you don't need to wait for sexual fulfillment.
If you're in relationship, we give you tools to effectively communicate your desires, so you can finally get the sexual satisfaction that you crave.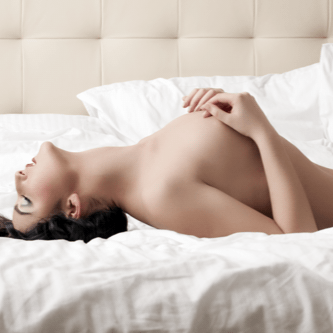 You deserve pleasure!
It's your birthright!
What's holding you back from experiencing the pleasure you desire?
Is it difficult for you to ask for what you want?
Are you holding on to emotional blocks or suffering from a changing sex drive?
Do you judge your desires, feel weird or broken in your sexuality?
You are NOT broken. You are whole and complete, just as you are.
This training will help you clear emotional blocks, shed shame and fear, take control of your sexual health and dismantle the Shadows of your sexuality that are killing your pleasure.
It's time to claim the pleasure you deserve.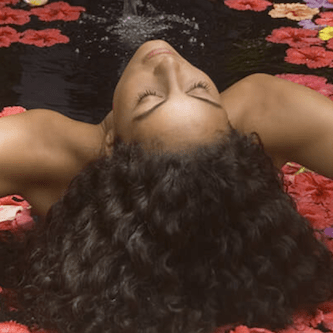 Empowered! Confident! Expressed!
We'll give you the specific skills, the erotic intelligence and the pleasure vocabulary to know what you want and how to get it!
Confident that you can satisfy your lover's needs and desires (no matter what Blueprint Type they are), you'll become the ultimate lover.
Empowered to be your own Erotic Detective, you are able to navigate physical, hormonal, and emotional challenges…
So, no matter what stage of life you or your relationship(s) are in, you'll be able to experience sexual satisfaction and keep passion burning bright!
"I have to tell you…

I've done tons of online courses over the years and this course is by far the best course I have EVER done.

The videos are so entertaining to watch, the workbook is really helpful and the coaching calls and online community have been wonderful. I haven't really explored any of the bonus courses yet, but those look good too.

I've been struggling with issues in my sex life for years now and tried counseling on and off and I feel like I've made more progress in these past few weeks than I have in the past few years!

I have much gratitude to you and Jaiya for creating this course and community - I can't wait to see where this journey takes me next :)"
'Red Hot Touch' Video Series

This series is NOT publicly available.
If you could get your hands on it,
you would invest at least $145.00 for the entire series.
>> Enroll before Friday, September 29th, 5pm PST and
You'll Get This Award Winning 'Red Hot Touch' 5-Part Video Series

as a bonus.
Delivered as digital downloads, straight to your inbox*, this series will guide you, step-by-step, through a master class in sensual touch and erotic massage.
Take this visually stunning journey into erotic artistry.
Discover the techniques that create deep relaxation and surrender, heighten arousal and turn on and indulge in these videos with your lover for date nights and create deep connection and sexual satisfaction as you play along.
Red Hot Touch is explicit!
You must be 18 years of age or older to receive this video series and to participate in any of our programs or trainings.
You'll learn touch and massage techniques for…
Erogenous Zones and Orgasmic Massage

Erotic Touch for Sexual Positions

Genital Massage for Men

Genital Massage for Women

Exquisite Anal Massage
(* You won't receive the Red Hot Touch Video Bonus until 33 days after you have enrolled in The Erotic Blueprint Breakthrough Program. We don't want to overwhelm you and want to make sure you can focus on the Blueprint Program right away.
You've got
2 super easy options

to get started today...
Payment Plan
Join The Blueprint Course
$497.50 a Month for 4 Months!
You'll Get Immediate Access
to the Blueprint Course, Erotic
Freedom Club and All
These
Powerful Bonuses…*
4 Group Coaching Calls every month
Erotic Freedom Club our exclusive, private Blueprints community
The Sex Communication Checklist
The Blueprint Immersions Practices for ALL 5 Blueprint Types
All 5 Erotic Blueprint Special Reports
And much more…
*When your payment plan is complete, you become a LIFETIME MEMBER of Erotic Freedom Club. Partners are required to have their own account. Sign your partner up for a full membership for only $690.
Payment In Full
Join The Blueprint Course
One Easy Payment of $1,990.00
You'll Get Immediate Access

to the Blueprint Course,

All

These

Powerful Bonuses…
4 Group Coaching Calls every month, month-after-month
You'll become an

instant LIFETIME member

of Erotic Freedom Club
The Sex Communication Checklist
The Blueprint Immersions Practices for ALL 5 Blueprint Types
All 5 Erotic Blueprint Special Reports
And much more…
Partners are required to have their own account. Sign your partner up for a full membership for only $690.
Find Out Exactly How This Program Can Work for You...
So much
more

than just an online course…
Get More Pleasure, and Better Results In Less Time!

4 Expert Led Coaching
Calls Every Month!
(A truly priceless bonus!)
We support you every step of the way.
You'll have our expert Lead Erotic Blueprint Coaches™ at your fingertips for as many as 5 group coaching calls every month, month after month!
Get exceptional, personalized coaching, feedback and guidance.
When you join the Blueprint Breakthrough Course you get LIFETIME access to our online membership. Our pleasure education is tailored to your needs, so you can explore at your own pace and set your own limits.
No matter where you are in the course, our Coaches can deepen and accelerate your process, helping you break through blocks, brainstorm new solutions and take you deeper into your own pleasure exploration.
And as a paid in full member, you'll always have access to these coaching calls!
Go at your own pace!
 Get the support you need when you need it!
If life gets busy and you can't make it to these calls for a while, we'll be here for you when you get back on track.
Are You Shy?
Be a fly on the wall and
still receive life-changing insights
By simply attending the monthly coaching calls, you will hear the challenges of other participants and you will see that you are NOT alone in your struggles. Hearing the shares of other members, experiencing the powerful coaching, you will have your own breakthroughs. We've seen it time and time again.

The Sex Communication Checklist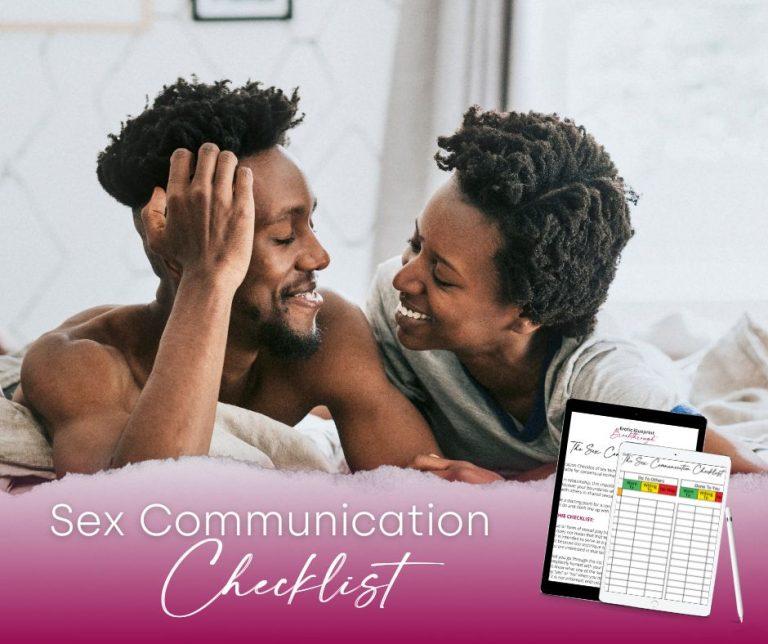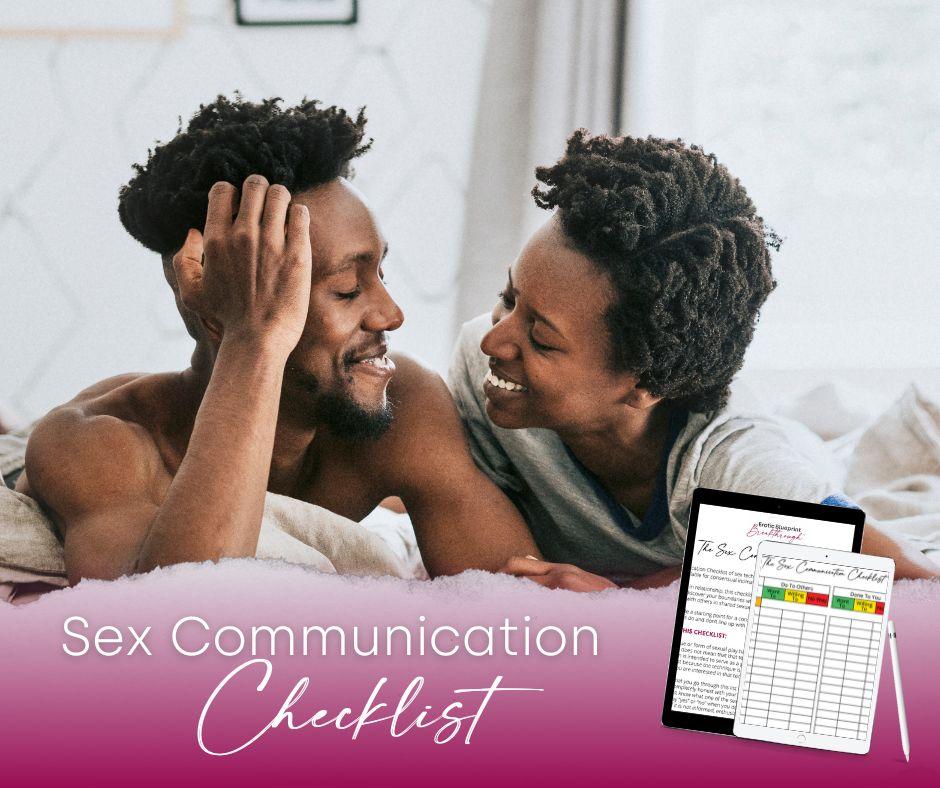 How often have you wished for the user's manual to your lover's body? "Just tell me what you want and don't want! Please!"
How often have you wanted to give your lover the menu for your body's turn-ons and turn offs?
The 'Sex Communication Checklist' is your cheat sheet to discovering what you want (and don't want) to explore in the bedroom!
Instead of fumbling around in confusion, wishing you knew what your lover wanted.
Instead of hoping they could read your mind, and guess perfectly how to turn you on in all the ways you desire.
Use 'The Sex Communication Checklist' to put it all down in black and white!
Over 150 different sex techniques are broken down by Erotic Blueprint Type for your exploration, help you to define exactly how you want to play, well before you even get into bed.
Because we leave our pleasure up to guesswork, we often end up frustrated and convinced we're incompatible, because it appears our lover wants different things.
This checklist gives you the exact list of the pleasures you both want to explore.
Compare your answers with your partner's, And you'll find ALL the sexy places where you're a perfect pleasure match!


Dive Deep as Jaiya Guides You in 5 Days of Quick and Easy Pleasure Immersion Sessions For EVERY Blueprint Type: (Value $97.00 each) Feed all your Blueprint turn-ons, and expand into new pleasures to find your unique style of orgasmic fulfillment.
✅ A Timeless Toolbox of Breathwork, Touches, and Exercise to Bring Your Body Into Pleasure: Use the meditations, breathwork, touches, and other exercises you learn to strengthen and enjoy your connection to pleasure anytime, anywhere – they are timeless and endlessly delicious tools to feed your Blueprint with the pleasure you need to thrive
✅ Expert Guidance To Safely Explore Your Pleasure: Skip past all the guesswork, awkwardness, or confusion. Instead, simply watch and follow along as we guide you through the best, proven methods to immerse yourself in all the pleasure your Blueprint has to offer…
✅ Learn How to Feed and Energize Your Body With Pleasure: Giving your body the pleasure it's built for is about more than just experiencing new erotic ecstasy – it's the most natural tool we have to naturally support your mental and physical health, reduce cortisol, increase health, feel good hormones and naturally boost your mood – on demand!
With The
'Blueprint Immersions'
you have no excuses and
everything you need to…
Claim the Pleasure That You Deserve!

All 5 Erotic Blueprint Special Reports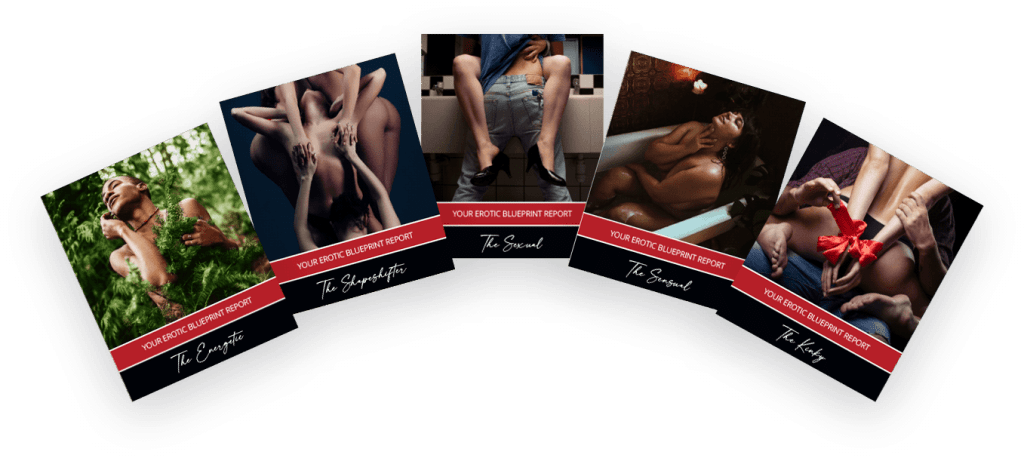 For Singles or Couples… 
These Blueprint Reports are powerful cheat sheets to dive into luscious self-pleasure or to quickly get insights on how to please your longtime lover or a brand new amour.
Each 28 page report is your customized guidebook detailing practical pleasure tools designed specifically for each Blueprint Type…

So you can begin to tap into all the pleasure possibilities right away!

LIFETIME membership to our exclusive, private online Community
Discover a sanctuary
where you can Be YOU!
Our virtual community is a place of empathy, support, and growth, where sexual healing and expansion are the norm.
Shed your inhibitions, open yourself up to new experiences, and ignite the passionate flame within you. 
We are a consent based community!
Go at your pace. Only try what feels safe and exciting for you.
No unwanted advice or interference here – only encouragement, backing, and total acceptance.
Say goodbye to mediocre sex and
Embrace the orgasmic pleasure you deserve. 
Club members have access to a treasure trove of extra video trainings and live bonus calls that focus on themes like: energetic orgasms, successfully navigating kink dynamics, sexual incompatibility solutions, and so much more!
You'll ALWAYS have something to explore!!!
Take it from one of our clients, Leyla…
"I love it ALL! There is so much information.
Even within this year, I haven't explored all of it… I've done the whole Blueprint Course and it opened up so much for me… I'm actually exploring now in reality, coming back to it, diving and dipping into all other bonuses we have there… I will spend years exploring all there is to explore… Thank you so much for creating it."
~ Leyla – Erotic Freedom Club Member ~
And from another one of our clients, Jennifer…
"The Deliciousness that is in this module… Amazed by the videos.
Even the ones with the single people… that module was the most fun, because I got actually step into someone's shoes that may not be the type of Blueprint that I am and really understand what they like… which is REALLY helpful if you have a partner that is not your blueprint."
~ Jennifer ~
Hear this couple's experience with the Blueprints...
"My relationship with pleasure has completely changed since taking the course." ~ Jamie
"Taking the course completely transformed my relationship with pleasure. Before taking the course, I felt like pleasure was something that I had to seek out, or something that I needed to outsource. Now I know that it's something that exists in me all the time, like a well I can tap into at any moment- not something that I need to rely on anyone else for." ~ Terra
"The Blueprints were a mega delicious gamechanger!" ~ Leidy
"The Blueprints definitely opened my eyes and a world of possibilities" ~ Dino
But keep this in mind:

The Erotic Blueprint Breakthrough


accepts and welcomes ALL erotic realities,
personalities, and possibilities…
But it is
NOT

for everyone.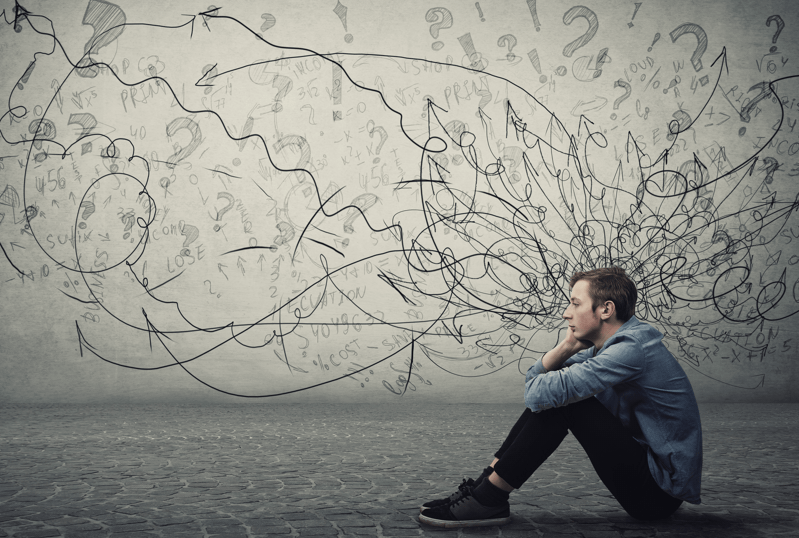 Trauma therapy is not covered in this program
Our Coaches are trauma informed but we do not represent ourselves to be trauma therapists.
Trauma Therapy in this area is highly specialized and requires intensive attention and specialization. So, if you've experienced sexual trauma, harassment, extreme repression, or otherwise have trouble defining clear sexual boundaries, we strongly suggest pursuing another avenue to resolve underlying triggers or emotions that may be keeping you from sexual satisfaction.
However, taking this training and being part of our sex-positive and informed community has led to a profound healing for many of our clients.
The Sexual Shadows that create disconnection, inhibit full sexual expression and block your empowerment, can be cleared.
When you're ready, you can experience your own Erotic Blueprint Breakthrough without risking triggers that derail your transformation.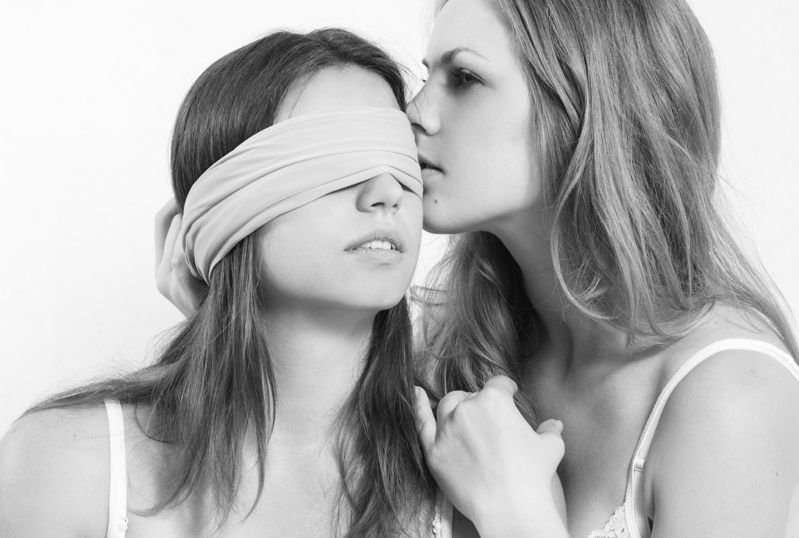 Consent and Healthy Boundaries are absolutely essential for this program's success
Safety is the essential ingredient needed to achieve true sexual fulfillment.
If you are unwilling or unable to responsibly engage in consent discussions and honor boundaries, this community won't be a good fit for you.
This program looks at consensual emotional and physical work, designed to help people discover who they are and what they enjoy. To achieve that, we all need to feel seen, accepted and safe.
The ability to engage in consent conversations and to respect your own boundaries and the boundaries of others is the foundation of creating that safety.
Every member of our community commits to engaging with informed consent only. Anyone who doesn't agree, or violates consent, is removed.
And we will demonstrate and teach you how to practice honoring consent within our community AND in your relationships.
Frequently Asked Questions
Ready to find yourself in ecstasy?
Sensory indulgence, heightened arousal, a life filled with passion, fulfillment, and satisfaction – it's all possible with The Erotic Blueprint Breakthrough.
Start experiencing new breakthroughs, sensations, and confidence just like these clients have done:
"New dynamics inside and outside of the bedroom are creating increased connection, trust and satisfaction."
"I have the adventure of living my desires, having an exciting erotic life of getting my needs met. I have the life of my dreams."
"I feel more empowered to be who I am and the work that I've done around sex has had a positive ripple effect in all aspects of my life."
"I discovered a whole side of myself that I never knew existed… not only did my arousal increase but my feelings of unworthiness dissipated! I began to love myself."
"I have all that I need to be deeply fulfilled and satisfied. I am exploring in ways I haven't before with a new confidence and ability to freely express who I want to be."
"It's changed my whole life. I know what I need now, I can communicate that to my partner. I'm so fed."
"Learning the BP's are allowing me to bloom into my fullest self in my everyday life as well as in the bedroom."
"The blueprints gave me a level of nonjudgement and acceptance that I'm not sure I could have accessed any other way."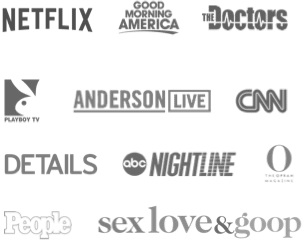 Statements made by current or former clients or by team members of The Blueprint Breakthrough, Inc., and Jaiya, Inc. are not meant to represent the results or benefits you can expect from this course.

Moreover, we aren't aware of the state of your love life or the depth of your commitment to satisfying sex and intimacy.

In order to achieve results, students must commit to and participate in all The Erotic Blueprint Breakthrough Program modules. If you're in a partnership, we advise doing the program with your partner(s).

Though no explicit promise can be made for the individual results you will receive, we stand by the quality of all of our materials, including our modules, bonuses, advice, and practices.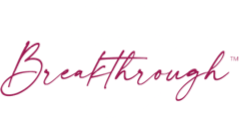 ©2017 – 2023 The Blueprint Breakthrough, Inc. – All Rights Reserved